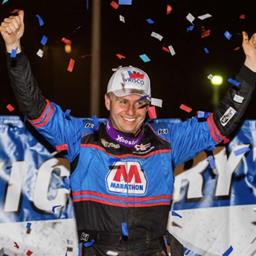 ---
Mike Marlar and Ronnie Delk's Successful Tenure Draws to a Close
WINFIELD, Tenn. (10/25/23) – A partnership spanning 10 seasons quietly drew to a close this past weekend during the 43rd annual Dirt Track World Championship at Eldora Speedway.
Mike Marlar made his final laps aboard the Ronnie Delk-owned 157. While the dynamic duos run together has come to an end, it's not a sad ending.
"My first weekend with Ronnie was in late October 2013, at Smoky Mountain Speedway. The first night we broke an engine, and I thought we might be finished before we even got started. But that wasn't Ronnie's style; he came to my shop the next morning with an engine in the back of his truck. We put it in, and we won $10,000 that night. Then it was off to the races," Marlar recalls with his signature smile. "Ronnie and I have accomplished a lot in the past decade, and he's been the absolute best friend and car owner a person could ever ask for."
Together Delk and Marlar have collected numerous wins across the United States as well as a World of Outlaws Championship and were a constant fixture at the nation's highest profile events.
For Delk, it's been exciting to see what the team has accomplished.
"My partnership with Mikey has been a great thing. I've enjoyed it, and we've built something we can both be really proud of. We have achieved a lot of cool things together in racing, and now we want to expand that partnership to other things," Delk said.
"My relationship with Ronnie goes way beyond the traditional one of a driver and owner. We're great friends; he's my greatest ally, and he has enriched my life. In the past ten seasons I have never pulled on the track without knowing that I had the best equipment available, and that Ronnie fully believed in me. He built a premier team from the ground up, and I can never thank him enough for the opportunity of being his driver. It's been an extraordinary partnership, and I am excited for the next chapter of our journey together," says Marlar.
Marlar added, "My wife, Stacy, always says, 'It takes a village,' and she is 100% right. I want to say a huge thank you to Ronnie's wife Karla and his kids for being invested in helping us chase our dreams. Our success as a team would also have never been possible without the unwavering support of my ride or die's, Josh Davis and Jerry Sprouse."
Delk and Marlar are grateful for everyone that has had a hand in their success over the past decade.
"I'll be announcing my new racing plans here in the next week or so, but in the meantime, I am looking forward to crewing for Ronnie's son, Jared, in his third Crown Vic race this weekend!" Marlar stated.
Ronnie Delk and Mike Marlar would like to thank their great marketing partners and friends, which include Bilstein, Can-Am Auto Salvage, Mesilla Valley Transportation, Petroff Towing, Paulson Stussy Construction, Total Power, PEM, VP Racing, Longhorn Chassis, Midwest Sheet Metal, Race Ranch, Bell Helmets, Hoosier Tire, K1 Race Gear, Swift Springs, Winning Edge Carburetors, Allstar Performance, XS Power Batteries, Gorsuch?Performance Solutions, PRO-FABrication Headers & Exhaust, Wiles Driveshafts, Black Belt Racing, Capital Signs, Stanley Best Heating & Air, JSR Properties LLC, PPM Racing Products, FK Rod Ends, Accu-Force Shock Dyno, Performance Bodies & Parts, Wilwood Disc Brakes, Winters Rearends, Clements Racing Engines, Cornett Racing Engines, Vic Hill Racing Engines and MyRacePass?Marketing Services.
For the latest information on Mike Marlar Racing please visit the team website at www.MikeMarlar.com .
PR Contact:
Ben Shelton (ben.shelton@myracepass.com)
Article Media
Back to News