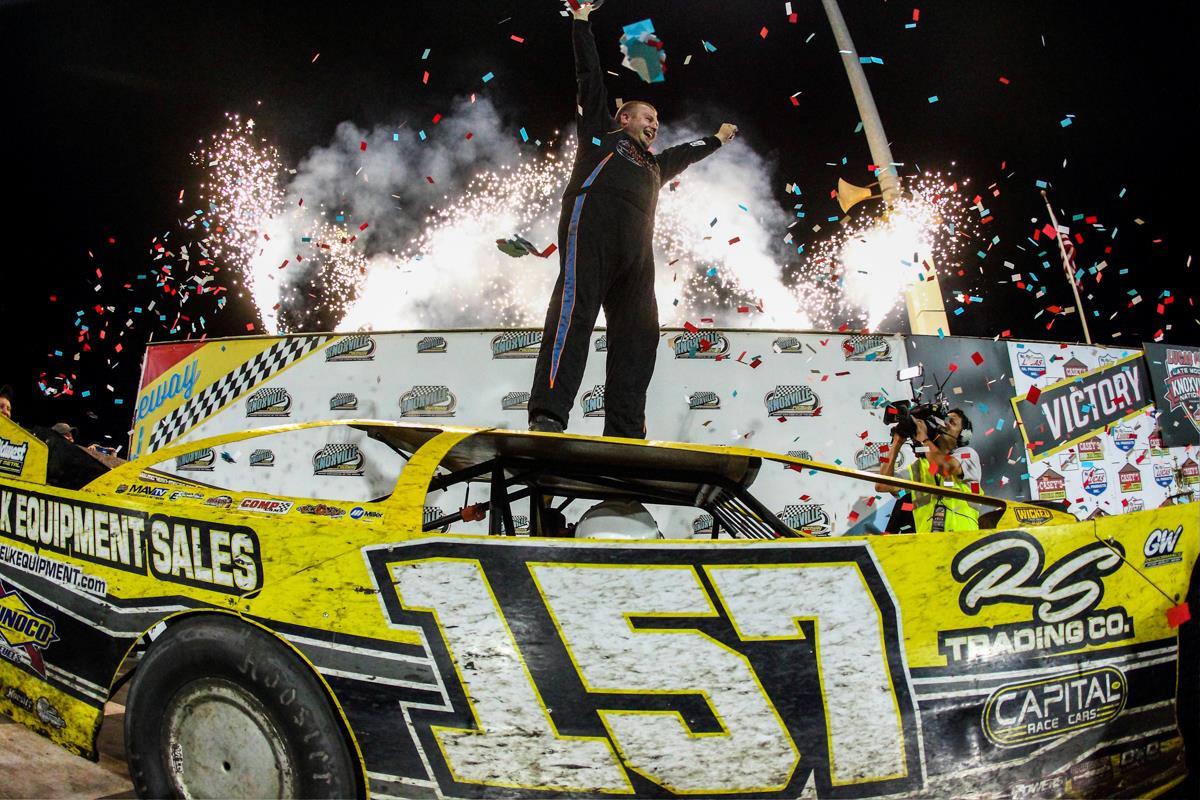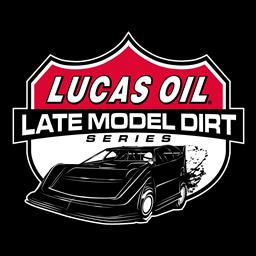 9/17/2016
Lucas Oil Late Model Dirt Series
---
Mike Marlar Magnificent; Wins Lucas Oil Late Model Knoxville Nationals
KNOXVILLE, IOWA (September 17, 2016) – Mike Marlar led the final 60 laps of the 100 lap Lucas Oil Late Model Knoxville Nationals - capturing the biggest win of his career. Marlar earned $40,000 for the victory in Saturday Night's 13th Annual Event in the Ronnie Delk Racing/Delk Equipment Sales/Cornett Racing Engines/Capital Race Car.
The current Lucas Oil Late Model Dirt Series points leader, Scott Bloomquist finished in second. Bobby Pierce came home in third; Shane Clanton and Billy Moyer completed the top five.
Jimmy Owens led the first ten laps of the race until Josh Richards took over the top spot. Richards then lead until lap 39 when Marlar powered to the point from his fourth starting position. Marlar held off Bloomquist and Richards the rest of the way for the win. Richards slowed with five laps to go and headed pitside, giving up a podium finish.
"It's a good life, it's awesome to win here," said the 38-year-old Marlar in Lucas Oil Victory Lane. Knoxville [Raceway] is one of my favorite tracks, if not my favorite to race at. It can scare you to death, but it's awesome! I knew Bloomquist was on me. When he pulled alongside me a few times and got by I just let the car go up top and it stuck."
"We had an awesome car. We are not a full-time race team, but we put it on them tonight. I said on Wednesday when I left the house, I am confident going into this event. You don't drive 14 hours to one of the biggest races in the country when you aren't. We've got the equipment and the team. We've got the stuff to do this," said Marlar after posting his sixth career LOLMDS victory.
Bloomquist drove his Reece Monument Company/Crop Production Services/Sweet-Bloomquist Chassis to finish second, solidifying his series points lead. "Maybe some long runs would have helped us. I just had to get some heat in the front tires. He [Marlar] had a great run tonight. He ran a good-line all night. You can't help but have fun at this place. If you're not having fun at this place, then you need to quit."
In his first appearance at Knoxville since 2012, Bobby Pierce battled to the third spot when Billy Moyer ran out of fuel on the final lap. "I can't say enough about the car. We started to get tight there at the end. It was really fun out there. I fell way back for a while. We got lucky here and there. Some guys fell out with fuel issues. I don't think I have any fuel left in the car right now. I would like to thank Berger Marina for coming on board this weekend helping us with a motor."
Completing the top ten were Jimmy Mars, Tim McCreadie, Kyle Bronson, Dennis Erb Jr., and Darrell Lanigan.
In preliminary action, Morgan Bagley won the C-Main and Gregg Satterlee won the B-Main.
Lucas Oil Late Model Dirt Series
Race Summary
Saturday, September 17th, 2016
13th Annual Lucas Oil Late Model Knoxville Nationals – Presented by Casey's General Store
Knoxville Raceway – Knoxville, IA
Keyser MFG. C-Main Finish (15 Laps, Top 5 Transfer to B-Main): Morgan Bagley, Matt Furman, Mason Zeigler, Ray Guss, Jr., Rich Bell, Dave Eckrich, Mike Fryer, Charlie McKenna, Jay Johnson, Joel Callahan, Mitch McGrath, John Duty, Justin Duty, Nick Marolf, Rob Toland, Brian Ledbetter, Rob Moss, Doug Sanders, Colton Flinner, Vic Hill-DNS, Chad Holladay-DNS, Kerry King, Sr.-DNS
Fast Shafts B-Main Finish (20 Laps, Top 6 Transfer to A-Main): Gregg Satterlee, Chad Simpson, Chad Mahder, Tim Lance, Kent Robinson, Jason Rauen, Frank Heckenast, Jr., RC Whitwell, Ricky Weiss, Ryan Unzicker, Mason Zeigler, Brent Larson, Morgan Bagley, Nick Hoffman, Rich Bell, Matt Furman, Spencer Diercks, Ricky Thornton Jr., Jason Utter, Jason Feger, Billy Moyer, Jr., Ray Guss, Jr., Jake O'Neil-DNS
Feature Finish (100 Laps):
FINISH START CAR # DRIVER NAME HOMETOWN EARNINGS
1 4 157 Mike Marlar Winfield, TN $40,000
452 8 0 Scott Bloomquist Mooresburg, TN $20,900
3 10 32P Bobby Pierce Oakwood, IL $10,000
4 9 25c Shane Clanton Zabulon, GA $8,750
5 7 21 Billy Moyer Batesville, AR $7,500
6 15 28m Jimmy Mars Menomonie, WI $7,000
7 14 39m Tim McCreadie Watertown, NY $7,200
8 22 40B Kyle Bronson Brandon, FL $6,000
9 16 28E Dennis Erb, Jr. Carpentersville, IL $6,200
10 21 15 Darrell Lanigan Union, KY $5,700
11 11 5 Don O'Neal Martinsville, IN $5,300
12 27 33c Chad Mahder Eau Claire, WI $4,000
13 28 48L Tim Lance Brimfield, IL $3,500
14 1 1R Josh Richards Shinnston, WV $3,400
15 12 20x Rodney Sanders Happy, TX $3,300
16 13 B5 Brandon Sheppard New Berlin, IL $3,900
17 19 6 Jonathan Davenport Mount Airy, NC $4,100
18 20 15F Steve Francis Bowling Green, KY $3,700
19 26 25 Chad Simpson Mt. Vernon, IA $2,900
20 6 18b Shannon Babb Mowequa, IL $2,800
21 31 75 Colton Flinner Allison Park, PA $2,800
22 3 17m Dale McDowell Chickamauga, GA $2,600
23 17 1 Earl Pearson, Jr. Jacksonville, FL $3,300
24 18 91 Tyler Erb New Waverly, TX $2,500
25 5 32 Chris Simpson Oxford, IA $2,500
26 32 29d Spencer Diercks Davenport, IA $2,500
27 2 20 Jimmy Owens Newport, TN $3,300
28 23 18 Chase Junghans Manhattan, KS $2,500
29 24 51M Joey Moriarty Glendale, AZ $2,500
30 30 98 Jason Rauen Farley, IA $2,500
31 29 7R Kent Robinson Bloomington, IN $2,500
32 25 22 Gregg Satterlee Rochester Mills, PA $2,500
Race Statistics
Entrants: 69
Lap Leaders: Jimmy Owens (Laps 1 – 10); Josh Richards (Laps 11 – 39); Mike Marlar (Laps 40 – 100)
Cautions: Jason Rauen (Lap 14); Gregg Satterlee (Lap 26); Shannon Babb (Lap 29); Chase Junghans (Lap 45); Tyler Erb (Lap 52); Debris (Lap 59); Colton Flinner (Lap 63); Colton Flinner (Lap 76); Brandon Sheppard (Lap 84)
Lucas Oil Late Model Dirt Series Provisionals: Colton Flinner
Miller Welders Highest Knoxville Nationals Points Provisional: Spencer Diercks
Lucas Oil Late Model Dirt Series Emergency Provisionals: n/a
Wrisco Feature Winner: Mike Marlar
Optima Batteries Hard Charger of the Race: Kyle Bronson (Started: 22nd; Finished: 8th; Advanced 14 Positions)
Midwest Sheet Metal Spoiler Challenge Point Leader: Scott Bloomquist
Allstar Performance Power Move of the Race: Shane Clanton
Sunoco Race for Gas Highest Finisher: Mike Marlar
Hot Rod Processing Rookie of the Race: Colton Flinner
COMP Cams Engine Builder of the Race: Andy Durham Racing Engines
Ohlins Shocks Chassis Builder of the Race: Sweet-Bloomquist Race Cars
Outerwears Crew Chief of the Race: Josh Davis (Mike Marlar)
Fastest Lap of the Race: Jimmy Owens (Lap #2 – 17.9420 seconds)
Most Laps Led: Mike Marlar (61)
PFC Brakes Tough Brake Award: Josh Richards
Time of Race: 64 minutes 17 seconds
---
Submitted By: Jeremy Shields
Back to News