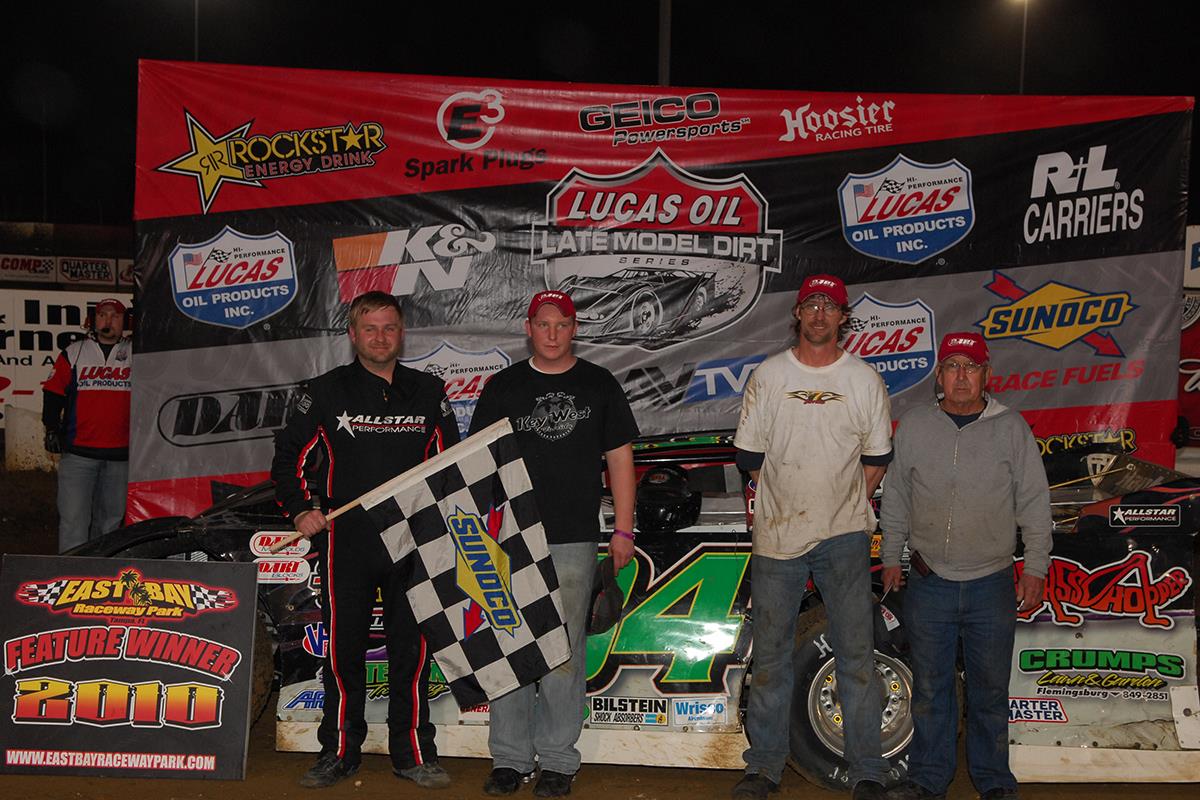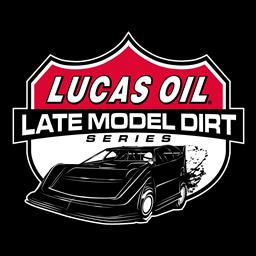 2/1/2010
Lucas Oil Late Model Dirt Series
---
Mike Marlar Wins First Ever East Bay Raceway Park on Opening Night of DART Winternationals
TAMPA, FL (February 1, 2010) - Driving a car that had not been on the race track in over a year, Mike Marlar of Winfield, TN led all 30 laps on the opening night of the 34th Annual DART Winternationals at East Bay Raceway Park. Marlar's storybook win was worth $5,000 for his first Lucas Oil Late Model Dirt Series victory since 2004. Trailing Marlar to the finish line was polesitter Tim McCreadie of Watertown, NY; Ray Cook of Brasstown ,NC; Tim Dohm of Cross Lanes, WV; and Josh Richards of Shinnston, WV.
Marlar started alongside McCreadie on the front row of the 30 lap main event. He got the jump on McCreadie, beating him into the first turn to take the lead. While the drivers were setting a rapid pace around the "Clay by the Bay" Jason Feger; in his first ever appearance at East Bay; came to a halt on the backstretch for the first caution of the race.
On the restart, Marlar was still showing the way followed by McCreadie, Cook, Eric Jacobsen and Chris Wall. Marlar quickly built his lead over McCreadie, opening up a four-car length advantage with eight laps scored. The second caution of the new came out for a slowing Tyler Reddick on lap nine.
After the yellow for Reddick, Marlar again opened his lead on the restart as Josh Richards moved into the top five for the first time on lap ten. Richards, who won three times a year ago, was making his way from the eighth starting spot. With 15 laps to go, Marlar was still in front holding his line around the track as McCreadie was slowly but surely cutting down his lead with ten to go. With nine laps to go the third and final caution came out for a slowing Justin Rattliff who had a flat tire. Rattliff headed to the pits out of the race. Along with Rattliff, Dan Stone suffered the same fate with a flat tire which knocked him out of contention.
On the final restart of the race, with nine laps to go, Marlar led the field to the green flag with McCreadie hot on his heels. McCreadie dove down low heading into the fourth turn as he kept a close grip on Marlar's #34. Marlar never slipped up in the final circuits as he held off McCreadie to the checkers to score his first ever win at East Bay and his first Lucas Oil Series since winning the Hillbilly 100 at Tyler County Speedway in West Virginia in 2004.
McCreadie; who missed last year's Winternationals due to his injuries at the Chili Bowl a year ago; crossed the line in second in the Sweeteners Plus/pro Power Engines/Rocket followed Cook in the D&R Racing/Race Engine Design/MasterSbilt Monte Carlo SS. Dohm took fourth in the Seymour Motorsports/Vic Hill Racing Engines/Rocket Impala SS with Richards taking fifth in the Ernie and Connie Davis/Cornett Engines/Rocket Impala SS.
Completing the top ten were Eric Jacobsen of Seacliffe Beach, CA, Don O'Neal of Martinsville, IN, Matt Miller of Waterville, OH, Dennis Erb Jr. of Carpentersville, IL and Shannon Babb of Moweaqua, IL.
In the Lucas Oil Victory Lane, Marlar became emotional when talking about his former car owner Owen Stephens, who passed away a few years ago. "I know he was looking down on us tonight, we all miss him and thanks to his wife Mary Lu Stephens for letting me drive the car, we just started working on this car a few weeks ago after it had been sitting around for a year since the last time we raced it here. I have to thank all the crew guys, my Crew Chief Michael Coffey, and everybody who helped on the car. It feels great to win here at East Bay and thanks to C.J. Rayburn, I know he will be happy about this and Estes Racing Engines, we had more than enough power and when you can beat someone like Tim McCreadie then you have to be pleased with that," said Marlar who will marry his long-time girlfriend Stacy at the end of the month.
The number 34 is sponsored by Stephens Trucking & S&B Cattle Company
To find out more about the Lucas Oil Late Model Dirt Series, log on to www.lucasdirt.com or call the series office at (951) 532-2503.
Lucas Oil Late Model Dirt Series
Race Summary
Monday Night, February 1st, 2010
"34th Annual DART Winternationals"
East Bay Raceway Park - Tampa, FL
Red Buck Cigars Fast Time: Chris Wall / 14.575 seconds
Wiles Driveshafts First Heat (10 Laps-Top 4 Advance): Tim McCreadie,Chris Wall, Dennis Erb, Jr, Kyle Berck, Shannon Babb, Mark Andersen, Eric Wells, Justin Ratliff, Leon Henderson, Robert Geiger, DNS Danny Mitchell
AFCO Racing Products Second Heat (10 Laps-Top 4 Advance): Ray cook, Dillan White, Jason Feger, Steve Shaver, Brandon Thirlby, Christain Augspurger, Jason McBride, John Kellum, Doug Blashe, Billy Moyer
Allstar Performance Third Heat (10 Laps-Top 4 Advance): Mike Marlar, Eric Jacobsen, Tim Dohn, Daniel Stone, Bub McCool, Dan Schlieper, James O'Hara, Dale McDowell, Austin Hubbard, Chad Stapleton, Chad Hollenbeck
Wrisco Aluminum Fourth Heat (10 Laps-Top 4 Advance): Matt Miller, Josh Richards, Tyler Reddick, Steve Casebolt, Don O'Neal, Tim Isenberg, Travis Varnadore, Ricky Weiss, Shan Smith, Terry Casey
Hawk brake First B-Main (12 Laps- Top 3 Transfers): Shannon Babb, Mark Andersen, Eric Wells, Jason McBride, Brandon Thirlby, Christain Augspurger, Justin Rattliff, Danny Mitchell, Doug Blashe, Leon Henderson, Robert Geiger, Billy Moyer, DNS John Kellum
Performance Rod and Custom (PRC) Second B-Main (12 Laps- Top 3 Transfers): Bub McCool, Don O'Neal, Dan Schlieper. Tim Isenberg, Travis Varnadore, Chad Stapleton, Ricky Weiss, James O'Hara, Chad Hollenbeck, Shan Smith, Dale McDowell, DNS Terry Casey, DNS Austin Hubbard
PRC Strawberry Dash (No Dash, Fan Drew Name From Hat): Justin Rattliff
34th Annual DART Winternationals Monday Night Feature Finish (30 Laps): Mike Marlar, Tim McCreadie, Ray Cook, Tim Dohm, Josh Richards, Eric Jacobsen, Don O'Neal, Matt Miller, Dennis Erb, Jr., Shannon Babb, Steve Casebolt, Kyle Berck, Bub McCool, Dillan White, Tim Isenberg, Tyler Reddick, Dan Stone, Dan Schlieper, Justin Rattliff, Jason McBride, Chris Wall, Steve Shaver, Eric Wells, Billy Moyer, Mark Andersen, Jason Feger
Race Statistics
Entrants: 42
Lap Leaders: 1-30 Mike Marlar
Caution Flags: (Lap 3) Jason Feger, (Lap 9) Tyler Reddick, (Lap 21) Justin Ratliff
Lucas Oil Late Model Dirt Series Provisionals: none
DART Fast Pass Provisional: Billy Moyer
PBM/Erson Cams Hard Charger of the Race: Don O'Neal (Started 20th , Finished 7th , Advanced 13 positions)
Ohlins Shocks Performer of the Race: Mike Marlar
K&N Filters Clean Pass of the Race: Tim Dohm
Quarter Master Rookie of the Race: None
Comp Cams Engine Builder of the Race: Estes Racing Engines
Dominator Race Products Hard Luck Award: Terry Casey
DirtonDirt.com Crew Chief of the Race: Michael Coffey (Mike Marlar)
Time of Race: 16 minutes, 29 seconds
---
Submitted By: Jeremy Shields
Back to News